Genuine OEM Ford Parts For Sale in Coatesville, PA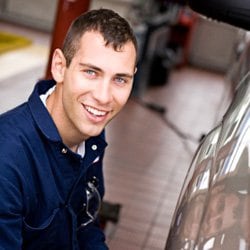 At Brian Hoskins Ford, we deliver on our commitment to satisfy all of your automotive needs. When you visit us, you can take advantage of our parts center where you'll find a robust inventory of genuine OEM parts. If you're someone who likes to get under the hood, it's likely that you know the importance of utilizing genuine Ford parts to ensure everything matches up with your vehicle needs to keep it running strong. When you make repairs with Ford parts, you know you're giving your vehicle the attention it deserves, which helps ensure that it stays on the road longer with top performance.
Our Vast Inventory
Whether you're considering maintenance, repairs, or accessorizing your vehicle, you can ensure you're getting the right product at a fair price by purchasing your parts and accessories directly from our parts department. All you have to do is place your order online, and we'll give you a call as soon as it's ready to pick up. If you have any questions in the meantime, don't hesitate to contact our parts department directly and visit us at the dealership.
Our Ford Parts Expertise
Even better than our parts inventory, is our team of automotive professionals dedicated to delivering quality service. They understand the needs your Ford car, truck or SUV may have. And they can help you navigate our vast inventory of parts. You won't have to worry about making multiple trips to our dealership when it comes time for repair, we'll get you the right part for the job the first time.
Get the Parts Your Car Needs
Not only do we provide Kennett Square and Chester County residents with the exact Ford parts they need, we also make taking advantage of it easy whenever you visit. By utilizing our parts request form below, you can order the parts you need before visiting our dealership to ensure you get exactly what you're looking for. Once you do, we can guarantee we have the part you need, and you can return your Ford model to pristine operating condition. Feel free to contact us today with any questions or concerns about the Ford parts you're looking for!