Enlist Our Service Pros for Top-Quality Maintenance and Repairs in Coatesville and Chester County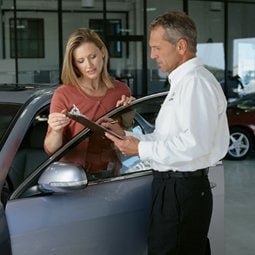 The best way to keep your vehicle running for many years to come is to have it routinely serviced and repaired. Not only will regular maintenance ensure that your vehicle is working properly, but it will also keep you aware of any future problems or deter possible expensive repairs in the first place. Here at Brian Hoskins Ford, our service center is prepared to help every driver, whether they be from right here in Coatesville or further away in Chester County or Kennett Square, with the high-quality, fast, and honest service that they deserve.
What Type Of Car Service Do We Offer?
Whether you're Ford F-150 is in need of a transmission flush, your Ford Focus requires a battery replacement, or you aren't exactly sure why your Ford Escape is making an odd noise when you drive around West Chester or Downingtown, our technicians are ready to help you get your vehicle safely back out on the road. We offer excellent service on every type of repair, whether it be routine maintenance or a larger issue, and would love to have you schedule appointment today!
Here are a few of our most popular maintenance requests and why you should have them done at Brian Hoskins Ford.
Oil Changes - Over time, your engine's oil will suffer from the hard work that it does and will need to be changed. In order to protect your engine from a larger, and more expensive repair, we suggest scheduling an oil change with our service center as soon as the engine oil light illuminates. We will exchange the bad oil for the right kind of oil your Ford car needs and will have you ready to go in no time!
Brake Inspections - If your brakes aren't working the way they should, your brake light has appeared, or you have been noticing a loud squeal every time you apply your brakes, it's time to have us inspect them. Our technicians will see which brakes are the issue, discuss your options with you, and replace any brake pads, rotors, or brake fluid that needs to be changed.
Tire Rotations/Alignments - Is your Ford Edge veering to the right when it should be going straight? Have you noticed the tires on your Ford Fusion aren't wearing evenly? Let us rotate, align, or replace your tires and get you moving with the proper amount of grip.
Ford Service For Your Ford Car, Truck, SUV, Or Van
If you own a Ford car, truck, SUV, or van then you'll most definitely want to bring your vehicle to our Ford service center. Not only do our certified Ford technicians know every inch of the Ford line-up, but we also use OEM Ford parts and accessories to keep your Ford F-250, Ford EcoSport, or Ford Mustang the Ford brand vehicle you love through and through.
Schedule Your Next Service Appointment With Brian Hoskins Ford
Whether this is your first time bringing your vehicle to our service center or you are a reoccurring guest, feel free to utilize our online scheduling tool to find, and schedule, the perfect date and time for you. Simply input your contact and vehicle information, choose the type of service that you need, select the time slot you want, and input any comments you have. Once you submit, your service appointment will be scheduled and we will see you soon!