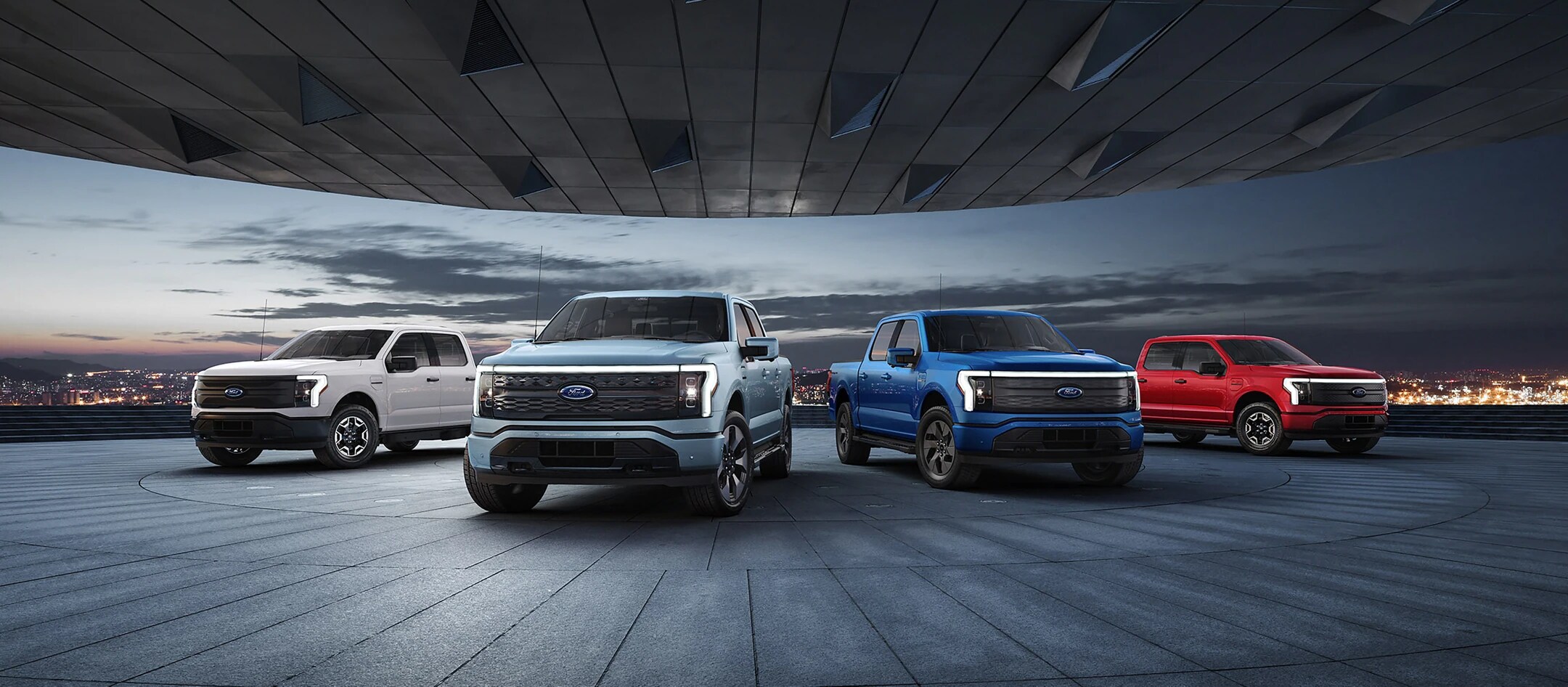 The wait is over. The future is now. The world's first all-electric Ford F-150 has arrived, and it's poised to be the fastest, most powerful F-150 yet. Be there when the 2022 Ford F-150 Lightning strikes on Wednesday, May 19, 2021 at 9:30 p.m. ET. Courtesy of Brian Hoskins Ford in Coatesville, PA, here's everything we know so far.
Watch the Countdown
Legendary Turns Revolutionary
It's time to take the innovation of a century and point it forward toward a new one. According to Ford Motor Company CEO Jim Farley, the Ford F-150 Lightning will be capable of powering homes, accelerating more quickly than the supercharged V8-powered Lightnings of old, and automatically improving itself with over-the-air software updates.
The all-new F-150 Lightning will be similar in size and stature to its currently available gas-powered brethren, but it will include an illuminated light bar that stretches across the top of the grille.
Harness the Power of the Future
The 2022 Ford F-150 Lightning will have a dual-motor setup providing all-wheel drive. In addition, its battery pack is expected to provide more than 300 miles of range. This is in comparison to Ford's most recent EV option, the 2021 Ford Mustang Mach-E, which has earned an EPA-rated 305 miles of all-electric driving range.
The 2022 Ford F-150 Lightning won't just operate on a futuristic level, it has the looks to match as well. An all-new "Lightning" logo will adorn the truck's bedside panel, and its interior will feature plenty of real estate, including a large 12-inch digital gauge cluster and touchscreen interface.
Lightning Rarely Strikes Twice
As the old adage claims, lightning almost never strikes twice. In the case of the Ford F-Series however, this isn't exactly true. The "Lightning" name, which was once used for a special edition SVT F-150 from earlier this millenium, has been revived for this all-new electric truck.
The 2022 Ford F-150 Lightning is expected to hit dealer lots in mid-2022. Its batteries will be produced alongside it at Ford's brand-new electric vehicle facility, the Rogue Center in Dearborn, Michigan.
The Ford Motor Company never stops innovating. Be the first to set eyes on the all-electric pickup of the future when you witness the live reveal of the 2022 Ford F-150 Lightning on Wednesday, May 19, 2021 at 9:30 p.m. ET via Ford's official social media channels.
Custom Vehicle Landing Page by

BitMoto