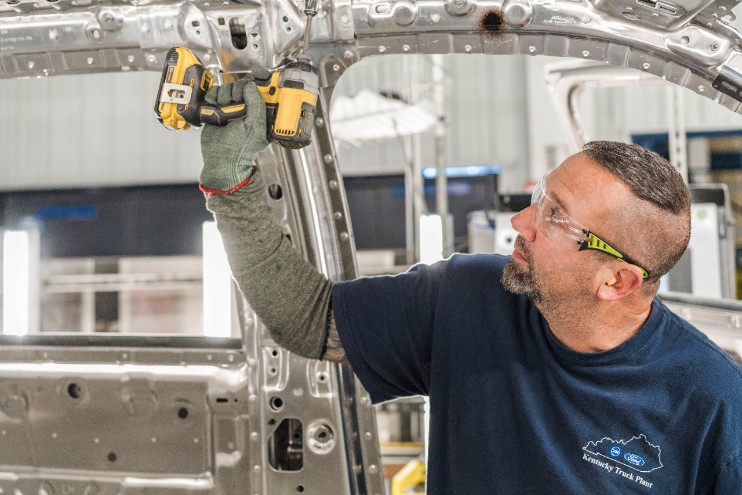 Ford recently revealed that the company is applying $700 million in new investments and bringing 500 new manufacturing roles to Kentucky to help speed up new vehicle production. The new investment in Kentucky -- part of the overall Ford+ plan for growth – will support an all-new F-Series Super Duty pickup developed at Ford's Kentucky Truck plant in Louisville.
"Ford is America's No. 1 employer of hourly autoworkers, and our workforce in Kentucky makes some of the country's most popular vehicles, including the F-Series Super Duty for both retail and Ford Pro commercial customers," said Kumar Galhotra, president, Ford Blue. "Ford has been growing in Kentucky since the days of the Model T, and we are continuing to invest in the Bluegrass State to produce great vehicles that our customers love and depend on."
Kentucky Gov. Andy Beshear also declared on the same day that the investment announcement would usher in "KenTRUCKy Day" to honor Ford's interest and support in Kentucky and the all-new F-Series Super Duty.
Ford's F-Series truck franchise alone created nearly $40 billion in revenue in 2021, which is beyond even the global revenue of Coca-Cola and Starbucks. The F-Series Super Duty alone generates more revenue than world-class companies like Southwest Airlines, Marriott International or Nordstrom.
"UAW Local 862 members are proud to be a part of the F-Series Super Duty's success both today and tomorrow," said UAW President Ray Curry. "We celebrate this $700 million investment into Ford's Kentucky Truck Plant, as it shows that UAW members continue to play an important role in Ford's future."
Ford, the nation's truck leader, is celebrating almost 50 years of the F-Series being the top-selling pickup in the U.S. and the 25th anniversary of the Super Duty with the new 2023 Ford F-Series Super Duty. The next-generation Super Duty takes America's most trusted heavy-duty truck to the next level with unprecedented levels of work capability, ingenious new technology and a suite of cloud-based services for new levels of productivity. It will be revealed today at 7:15 p.m. EDT at Churchill Downs, home of the Kentucky Derby.
The latest Ford F-Series Super Duty is purposefully built at Kentucky Truck Plant alongside the Ford Expedition and Lincoln Navigator in Louisville, Kentucky, while the Ford Escape and Lincoln Corsair are developed at the local Louisville Assembly Plant.
Learn more about Ford's ongoing investments and job creations throughout the U.S. right here at Brian Hoskins Ford! Don't hesitate to contact Brian Hoskins Ford for more information about the Ford Super Duty or any of our rugged pickups. Schedule a test drive today!