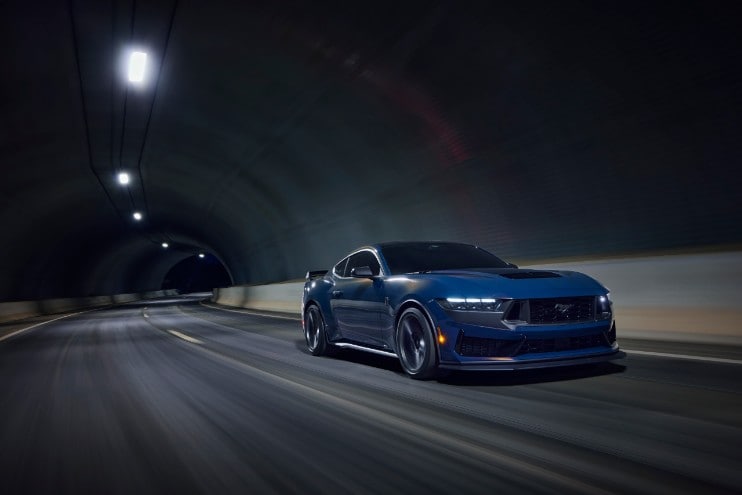 Ford recently revealed the automaker's latest Mustang, the Mustang Dark Horse. With a distinct dark look and a custom-modified 5.0-liter V8 – the strongest 5.0-liter V8 ever, churning out 500 horsepower – the Mustang Dark Horse bolsters the lineup and raises the bar for American street and track performance.
The 2024 Ford Mustang Dark Horse will easily be the most powerful Mustang available until the Shelby models start debuting. The Dark Horse even strikes an impressive balance between raw speed and high-class comfort, all wrapped up in a delightfully sinister-looking design. Ford has stated that its "the most track-capable 5.0-liter V8 street-legal Mustang ever."
Ford also stated that the all-new Mustang Dark Horse S and Dark Horse R track-only models are just two of six total new racing Mustangs coming soon. These six new racing Mustangs will compete globally in a variety of series, including GT3, GT4, NASCAR and NHRA Factory X racing. Customers will be able to fit the Mustang Dark Horse with lightweight carbon fiber wheels from Carbon Revolution, though with late availability.
The Mustang Dark Horse arrives in Blue Ember metallic paint, a cool, dark choice that is designed to reflect light with a glow-y effect. The optional Appearance Package includes dark Notorious Blue Brembo brake calipers with a brighter Grabber Blue logo.
For the interior, the Dark Horse has the same remade, tech-focused cabin that was first shown on other 2024 Mustangs. That includes a digitized dashboard that utilizes a 12.4-inch digital gauge cluster and a 13.2-inch touch display. The latter features the newest Sync 4 platform that got reskinned specifically for the Mustang, and it also supports over-the-air updates. While the interior layout and features—like the new electronic drift brake that lets novices cosplay as Vaughn Gittin Jr.—aren't unique to the Dark Horse, its blue interior accents and glossy dark metallic trim pieces are. Ford also offers an appearance package that adds Deep Indigo Blue seats with special perforations.
Ford hasn't yet gone on record about how much the 2024 Mustang Dark Horse will cost, but some experts think it will likely be a few thousand more than the current 2022 Mustang Mach 1. We anticipate that the Dark Horse will go on sale sometime next summer.
To keep up with all of Ford's new vehicle designs and high-performance vehicles, keep reading at Brian Hoskins Ford! Feel free to contact Brian Hoskins Ford for more information about the new 2024 Mustang Dark Horse or any of our great Mustang models!