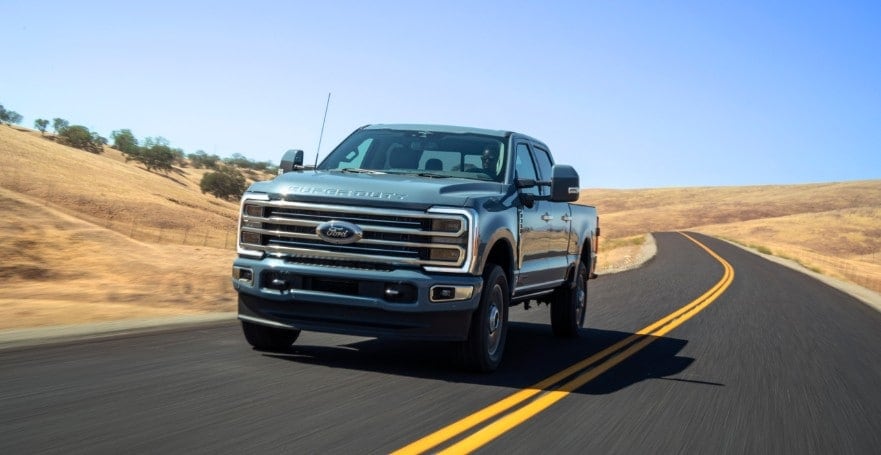 The new 2023 Ford Super Duty recently earned the top pickup towing title for the automaker, bringing back the series to grand performance heights. Essentially, the new Super Duty provides the best maximum tow ratings for all types of towing in the heavy-duty pickup market.
"The all-new 2023 Super Duty is designed and engineered for America's builders. Our job is to help make our customers' work feel easy, and this truck nails that commitment," said Andrew Kernahan, Super Duty chief program engineer. "The combination of purpose-built construction, powerful engines, 10-speed transmissions, and new technology means our customers can work, tow, and haul with absolute confidence."
Every version of the new Super Duty pickup can tow some extreme loads. Like the F-450 pickup, which is designed for up to 40,000 pounds towing gooseneck trailers. For perspective, that new figure is half the total weight of a semi-truck and a stocked trailer, Ford stated. The F-350 dual-rear-wheel (DRW) model comes in close behind, rated for up to 38,000 lbs. When it comes to fifth-wheel towing, the F-450 can do up to 35,000 lbs in DRW spec.
The 2023 Super Duty F-Series also comes with class-defining power, with the impressive 6.7-liter V8 diesel offering the most capability out of the lineup. It offers an extreme 500 horsepower and a massive 1,200 lb-ft of torque. Even the heaviest trailers should become easier tow than ever. When it comes to gas trucks, Ford's 7.3-liter V8 again comes out on top with 430 hp and 485 lb-ft of torque.

Lastly, the new Ford Super Duty delivers the world's best maximum payload rating available in a pickup at 8,000 pounds. Even better (or at least as good), the available Onboard Scales are able to measure a payload equivalent of up to 100 eighty-pound bags of cement. But the commercial side of the pickup is built for more than just hauling; it's engineered for impressive productivity with signature bedside and rear bumper corner steps and an available tailgate step three inches lower than before.
When you need elite performance for any job or adventure, the new Ford Super Duty F-Series will support your ambition. For more information about the new 2023 Ford Super Duty or any of our great Ford pickups, take a look through our new inventory online and contact us today to schedule an appointment!