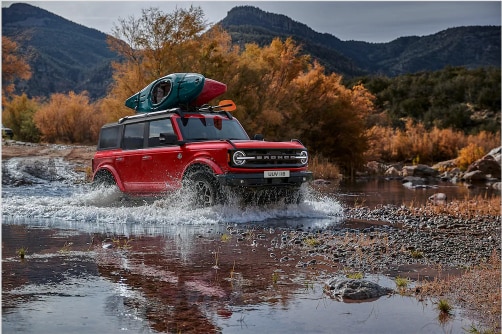 An American classic is heading to Europe. Ford announced this week that a very limited number of Ford Broncos will be hitting the left side of the road in late 2023, bringing their incredible off-road capability to the European market.
"The Bronco is Ford's toughest and most versatile off-roader, and the new generation fuses the DNA of the original with the latest terrain-handling technologies and a vast range of accessories to create a new off-road icon," said Matthias Tonn, chief engineer of Import Vehicles for Ford of Europe. "Following the huge success of the new Bronco in the US we are thrilled to be bringing some of the spirit of adventure to our customers in Europe."
The first Bronco was introduced to the U.S. in 1966, and became known for its unstoppable, go-anywhere ability. After the last Bronco rolled off the assembly line in 1996, it seemed to be a wrap on the off-roading powerhouse, until 2020 when the Bronco was reintroduced in North America after 25 years.
The modern Bronco pays homage to its roots with its highly recognizable shape that includes short overhangs, strong feature lines, and bold details. Everything on the vehicle is designed for functionality, from bolt-on plastic wheel arches and trail sights to removable doors and a removable hard top with a sound-dampening headliner.
"It was crucial that the return of Bronco was authentic to the legacy of the original iconic, rugged SUV," said Paul Wraith, Bronco chief designer. "Every decision we made about the Bronco's design was about serving our customers better, maximizing capability in the wild, its independence as a brand, and leaving no rock unturned – even down to the stamping of the bolt heads and the lettering on the tires."
The Bronco is also known for its capable G.O.A.T. modes, or Goes Over Any Type of Terrain, which includes on-road modes like Normal, Eco, Sport and Slippery, as well as G.O.A.T. off-road modes like Mud/Ruts, and Sand, and even an available racing-inspired Baja mode, each one optimizing the throttle, gearbox shift points and steering response for the driving conditions ahead. The Trail Toolbox is also a Bronco hallmark, a suite of sophisticated off-road technologies including Trail Control, Trail Turn Assist, Trail One-Pedal Drive, and AdvanceTrac™ with Roll Stability Control™ and Trailer Sway Control. All of these features have made the Bronco a legend in America and are sure to appeal to European adventurers as well.
"Bronco is built to give customers the freedom to explore with confidence, and this iconic car is adaptable to suit almost any kind of adventure that you should wish to go on without sacrificing comfort, utility or performance. It's Ford's most capable and versatile off-road SUV, and it is going to be empowering a lot of fun in Europe," Matthias Tonn said.