Ford Unleashes New 2023 F-150 Raptor R for Off-Roading Power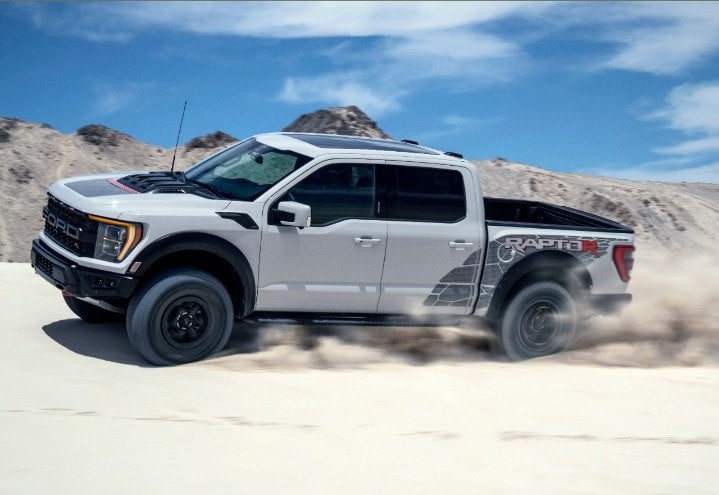 Starting off the week with exciting news, Ford recently announced that after over a decade spent driving through harsh conditions and conquering massive desert dunes with various F-Series models, the company is releasing the 2023 F-150® Raptor R – the quickest, most capable, most impressive high-performance off-road desert Raptor to date.
After three generations of the F-150 Raptor's incredible performance, the new 2023 Raptor is inspired by those extreme desert-racing trophy trucks that compete in events like the Baja 1000. Completely developed by Ford Performance, the 2023 F-150 Raptor R comes closest to delivering this type of performance in any F-150 truck.
"Raptor R is our ultimate Raptor," said Carl Widmann, Ford Performance chief engineer. "When customers experience Raptor R in the desert and beyond, it will make the hairs on the back of their necks stand up – and they'll love every second of it."
The powerhouse center of the Raptor R is an all-new 5.2-liter supercharged V8 engine that churns out 700 horsepower and 640 lb.-ft. of torque for unmatched desert-running capability in its class. Ford Performance chose the most powerful engine in its lineup – previously seen in the Mustang Shelby GT500 – calibrating it for Raptor-level off-road performance and Built Ford Tough ruggedness. The result is the most torque-dense supercharged V8 yet in a production pickup.
Drivers also get even more precise control over how their Raptor R uses its earth-quaking power, all thanks to a unique dual exhaust system with a true pass-through muffler and active valve system, with driving modes for Normal, Sport, Quiet, and Baja. All of these modes can be configured in the Raptor R's MyMode™ feature, enabling drivers to personalize multiple settings – including drive, steering, suspension modes, and others.
Like previous F-150 Raptor models, the Raptor R arrives standard with a large selection of smart technologies to make off-roading fun and easy. For instance, Trail Turn Assist helps drivers to decrease their turning radius for tight turns and go even further off-road. Ford Trail Control™ – which is basically cruise control for off-road performance – lets drivers select a set speed and steer through challenging conditions while the truck handles throttle and braking. Trail 1-Pedal Drive† allows customers to control throttle and braking with just one pedal to make extreme off-roading like rock crawling even easier.
The F-150 Raptor R will come in eight color options, including the new Avalanche and Azure Gray Tri-Coat paint jobs. Ordering for F-150 Raptor R starts this week and production starts late 2022 at the Dearborn Truck Plant.
Feel free to contact Brian Hoskins Ford for more information about the new F-150 Raptor R or any of our great F-Series trucks today!