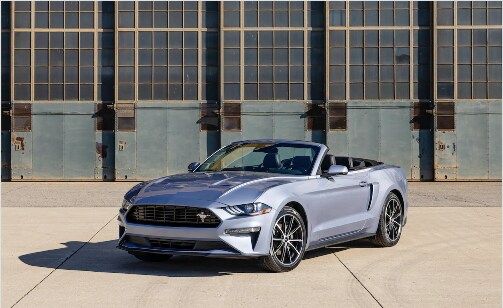 On April 17th of this year, the Ford Mustang officially turned 58, but that's not the only big milestone the car is hitting. This is also the Mustang's seventh consecutive year as the best selling sports coupe in the world, and with a legacy as rich as the Mustang's, that's no surprise.
2021 has been a good year for the Mustang, and not just in terms of sales alone. The Mustang Mach 1 and the track-ready Mustang Shelby® GT500®, which is the most powerful street-legal Ford and most advanced Mustang ever, have both made big splashes over the course of the last year.
Ford's internal data has reported that the United States keeps up the strongest demand for the Ford Mustang, making up a total of 76% of global sales. In 2021, other markets worldwide experienced some growth in Mustang sales, including New Zealand, which is up 54.3%, Brazil, which is up 37.3%, and South Korea, which is up 16.6%. Retail orders for the Mustang have nearly doubled in 2021 compared to 2020.
While this is certainly a moment to celebrate the Mustang, Ford is hardly resting on their laurels. Five new special editions are being planned to add into the lineup, including Mustang Ice White, which will also be available on the Mustang Mach-E, Shelby GT500 Heritage Edition, GT California Special, Coastal Limited and Stealth. From Mustang EcoBoost to Shelby GT500, soon there will be a special edition of the Mustang at every performance level.
There will also be eight new color options for the Mustang in 2022, including Ford Performance-exclusive Code Orange on the Shelby GT500. Brittany Blue Metallic will be returning specifically for Shelby GT500 Heritage and Coastal Limited models, and other new colors will be available across the lineup, including Atlas Blue Metallic, Cyber Orange Metallic Tri-Coat, Dark Matter Gray Metallic, Eruption Green Metallic, Grabber Blue Metallic and Mischievous Purple Metallic.
Mustang Mach-E was one of the most popular Ford products during 2021. The car enjoyed a strong first full-year of sales and brought home an impressive lineup of press awards, including the coveted North American Utility Vehicle of the Year honor, Car and Driver's 2021 EV of the Year, 2021 Wards 10 Best award and a 2022 Kelley Blue Book Best Buy Award, as well as recently being named a finalist for the 2022 World Car of the Year.
"When enthusiasts around the world get into a Mustang, they unlock that feeling of freedom and experience the open road," said Kumar Galhotra, president of Ford Blue. "That feeling, along with iconic design, awesome powertrains and a passionate global community all contribute to making Mustang a sales leader for the seventh year in a row."